By Giovanna Limoli
Halloween is right around the corner! It's time to start putting together your costumes for some safe Trick or Treating! However, no costume is complete without the perfect Trick or Treating Bag, now is it? You could get a plain old bag, but what's the fun in that?
Here are some easy DIY Trick or Treating bags that will make your costume go from great to SPECTACULAR!
Decorating an Old Pillowcase.
Decorating a pillowcase is a classic, but it never disappoints. Grab an old pillowcase (with permission from an adult, of course) and some of your favorite arts and crafts supplies like markers, glitter glue, stickers, paints, or even tie-dye, and get to decorating! Your creation can match your costume or be a statement piece, whatever you'd like! You can also do this with a tote bag if you have one.
Make a Mummy Basket.
A fun way to make your basket stand out is by turning it into a mummy friend! Take some toilet paper (or gauze) and wrap it around your basket. Make sure to glue it throughout the process so it doesn't fall apart. Use a marker or glue on googly eyes to make it come to life! Add a mouth or nose or anything else you want, and your mummy friend is complete!
Paint a Paper Bag. 
Just like the pillowcase, a paper bag is something you probably already have around your house. Though it's smaller, it's much easier to carry! This would be a good one for our younger friends. A fun idea is to paint the bag green, wait until it's dry and turn him into Frankenstein's Monster! Add his black hair, some stitches, a face (those googly eyes would come in handy again), and even his famous neck bolts!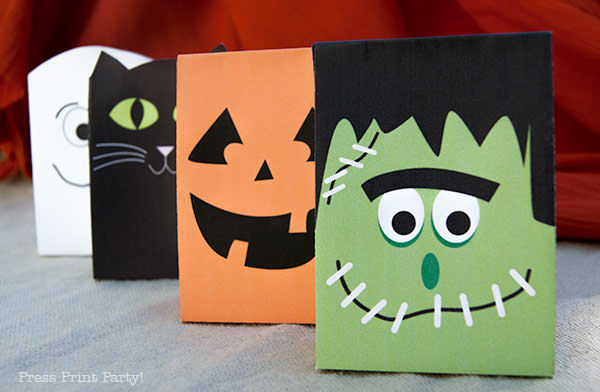 Decorate a Sand Bucket. 
Who doesn't have a sand bucket they were just using during the summer? You can easily decorate one to get a fun and easy basket for your candy. Paint it, add stickers, glue on some pom poms or those good ol' googly eyes and you have a personalized sand bucket for all your favorite treats. Nothing is better than bringing some summer into the fall time.
And that's it! Have some fun with your Halloween Look this year with a beautiful homemade trick or treat basket, bag, or bucket! Have a happy, healthy, safe, and sanitary Halloween!